Recommended BIOS settings:
Update your BIOS firmware to the newest!
Set boot to device HDD/SSD/M2/USB depends on your OS storage.
Enable 4G encode.
Set PCIe support to Auto.
Enable onboard graphics.
Preferred Legacy boot mode.
Disable virtualization.
Minimum System Requirements
Intel® Core™ 2 or better / AMD am2+ or better
4GB RAM*
4GB drive (HDD / SSD / M2 / USB)
* For eth mining on RX Vega 56, RX Vega 64, Radeon VII, RX 5700 you will need 6GB RAM
Recommended System Requirements
Intel® Core™ i3-3220 3.3 GHz / AMD FX-6300 3.5 GHz
8GB RAM
8GB SSD drive
F.A.Q.
1. Is it possible to mix AMD and NVIDIA GPUs on the same rig?
Yes. Compatible models are the RX 4xx-5xx and NVIDIA 10-series. Models R290, R390, Radeon VII, NVIDIA 20-series may not work correctly in the mixed rigs.
2. Can I use different miners for different GPUs?
Yes. You can use two miners separately for each type of cards (For example, Gminer for NVIDIA and Claymore for AMD).
3. Can I enable CPU mining?
No. RaveOS does not support CPU mining for now. We will add this in the future. Follow the news!
4. How many GPUs in one rig does RaveOS support?
You can use up to 19 GPUs, but we do not recommend using more than 12 GPUs, some mining software will not work properly.
5. How can I update system to latest version?
You can also upgrade the system by run upgrade -b latest command on your rig.
The latest version is available at
raveos.com
.
6. Can I quickly migrate from HiveOS, EthOS or other OS?
Yes. Our self-designed tool allows you to migrate multiple devices to RaveOS in a few minutes. For more information, check RaveOS MMT section on the
Installation
page
.
Another way is simply reflash your drive. More information in GPU-rig and ASIC sections on the
Installation
page
.
7. Why RaveOS is not booting?
1. Please review the minimum system requirements, check your hardware for malfunction and ensure your BIOS setting is set to recommend.
Minimum System Requirements
Intel® Core™ 2 or better / AMD am2+ or better
4GB RAM*
4GB drive (HDD/SSD/M2/USB)
* For eth mining on RX Vega 56, RX Vega 64, Radeon VII, RX 5700 you will need 6GB RAM
Recommended System Requirements
Intel® Core™ i3-3220 3.3 GHz / AMD FX-6300 3.5 GHz
8GB RAM
8GB SSD drive
Recommended BIOS settings
Update your BIOS firmware to the newest!
Set boot device to HDD/SSD/M2/USB depends on your OS storage
Enable 4G encode
Set PCIe support to Auto
Enable onboard graphics
Preferred Legacy boot mode
Disable virtualization
2. Still not booting? Try to change your pendrive port. If it is plugged in USB 3.0 port (the blue one), please try plugging it into a USB 2.0 (the black one).
3. Finally try to redownload image and reflash it (maybe image was corrupted during download process) or use another drive.
8. Can I use external API for developers?
Yes. You can activate an external API and execute various commands from your own toolbar or software.
Here
you can find all the the documentation.
9. I had "GPU has fallen off the bus" message. What has happened?
This message occurs mostly in NVIDIA GPUs. The most common causes:
You have entered too much overclock values. Try lower ones
Riser or risers are malfunction.
Your rig is unstable because of problem with power supply.
10. Why my rig is crashing and freezing too much?
Most common causes:
Settings. Too much overclocking or undervolting (or custom bios with wrong settings). Try to low your overclock values. If you have custom bios then check if flashing original one will fix the problem.
Bad riser. Low quality risers are very common in causing many problems. Change riser or use better ones and see if that will help. Try check GPUs one by one maybe one of them is causing problems.
Power supply. A sudden stop or restart may be caused by a weak power supply. If the room temperature is too high, the power supply may overheat and simply turn off.
11. Cannot start RaveOS on H81 BTC PRO Motherboard. Any advices?
If you are trying to run more than 5 GPUs on this motherboard, you need to set "Shared memory" to 32MB in BIOS (Advanced settings). Save it and reboot.
12. What is default login and password to SSH and RaveOS remote console?
We do not advice to mess with SSH console unless you know what you are doing.
Login:
root
Password:
admin
Use rig-help after connecting to your rig to get a list of available commands.
13. Can I enable OhGodAnETHlargementPill?
Yes. To enable OhGodAnETHlargementPill you need to go to Settings tab of your rig, set checkbox next to NV-pill and press [Update worker] button.
14. How I can modify VBIOS in RaveOS?
All VBIOS modifications you are doing at your own risk!
Yes. To download VBIOS, you need to go to the Hardware tab of your риг, open the menu in the BIOS column and click [Get]. It will start the process of creating a download link. If the link is successfully generated, the Download icon in the BIOS column will turn blue. You can download VBIOS by clicking on it.
To upload VBIOS, you need to go to the Hardware tab of your rig, open the menu in the BIOS column, click [Upload] and select a new VBIOS file. The rig will restart after the download process is complete.
15. I do not see the list of GPUs in the Tuning window, what should I do?
Disable ad blockers (Adblock, AdShield etc.) for raveos.com.
Some antiviruses have own web shield, it also may cause that kind of problem.
16. THE SYSTEM DOES NOT BOOT FROM HDD. HOW TO FIX IT?
If your system does not boot from the HDD, check the SATA operation mode in the BIOS. ACHI mode must be set.
17. CAN I USE MY OWN SCRIPTS IN THE SYSTEM?
Yes. To use your own scripts:
Add them to /app-data/scripts. If there is no directory, create it by yourself
Scripts must be init.d format. The script name must starts with S. Example: S01user_script.sh
Grant the script execution rights. Example: chmod +x /app-data/scripts/S01user_script.sh
IMPORTANT! The script should not block the thread.
18. I CANNOT DOWNLOAD SYSTEM UPDATES / MINERS. WHAT IS WRONG?
Most likely, there was a problem with the media markup during flashing. Check the amount of free disk space on the System Info tab. If you see that the total volume is about 500MB follow these steps:
Stop mining on your device (Action-Pause)
Run the command on your rig: curl -s https://image.raveos.com/tools/fix-disk-step1.sh | /bin/sh -s
Wait until worker restarts.
Run the command on you rig: curl -s https://image.raveos.com/tools/fix-disk-step2.sh | /bin/sh -s
Wait until worker restarts.
Now the "Free disk space" should display the correct media volume value. Miners and updates will be downloaded correctly.
19. A NEW VERSION OF THE MINER HAS BEEN RELEASED.
DO I NEED TO DOWNLOAD A NEW VERSION OF THE SYSTEM/UPDATE IT?
No. To use the new version of the miner, just add it for the coin in your wallet.
Wallets Edit Wallet Edit Coin Please select miner.
Add the miner. After that, you can select it from the list in the Mining section on your rig's page.
20. Why is the hashrate displayed incorrectly on the pool side?
The pool calculates the hashrate based on the shares you found for a certain period of time. It does not know what your current hashrate is, but only assumes based on the number of accepted shares.
Many pools do not understand when 2 statistics come from one worker and display the hash of one or the other. The situation occurs when you run 2 tasks separately for NVIDIA and AMD on the same rig. However, pools usually pay for the number of shares, not for the hashrate.
21. Why does my hashrate watchdog not work correctly?
The watchdog for rig looks at the task (each separately), if there are 2 tasks, i.e. one for NVIDIA and one for AMD, then it considers that the hash is lower (since it sees not the general one but for each task), issues a low hashrate warning and restarts. We recommend setting up a hashrate watchdog for each card via SET in Tuning tab.
22. How do I set additional miner parameters?
To set additional parameters for the miner, go to Wallets Edit Wallet Edit Coin Please select miner.
Next to the miner, you are interested in, click on the pencil icon. Enter the parameters. Example: -parameter 1
Save the changes for the form and for the coin.
23. Where can I find all available versions of the system?
You can download the latest stable version via the link on the website. All beta versions and the list of changes can be found in our telegram channel
RaveOS beta Updates
.
There are NO other official repositories.
24. How do I grant access to another account?
Go to the Account section. Icon in the upper-right corner of the dashboard.
Enter the username that you want to give access to.
Choose Access level (for example full access).
Click (Trust User) to grant access.

If everything is done correctly, the username that now has access will appear in the list "You trust this guys" at the bottom.

You can remove access by clicking on the remove icon.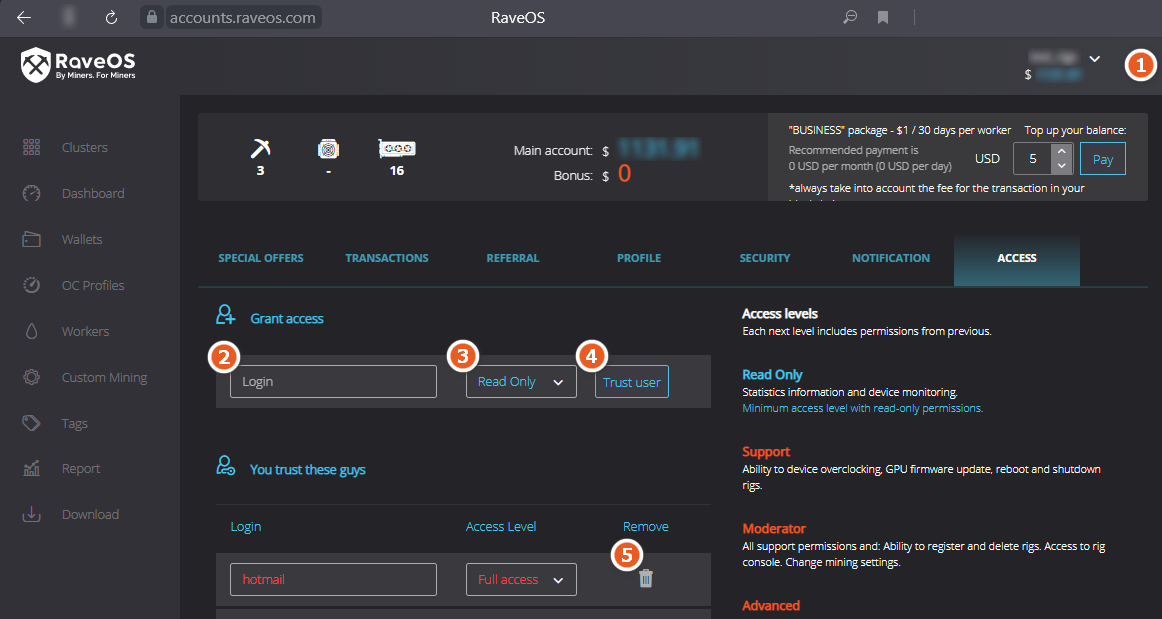 25. How to choose 2Miners.com pool to use RaveOS for free?
On all pools of our partners from 2MINERS.COM you can use all the RaveOS functionality for FREE.
Go to Wallets, Press Add Coin, then:
Select any coin from the list of pools https://2miners.com/
Select the 2MINERS pool, choose servers
Press Save.
After you apply the mining task, workers will be displayed as FREE.
raveos.com/pricing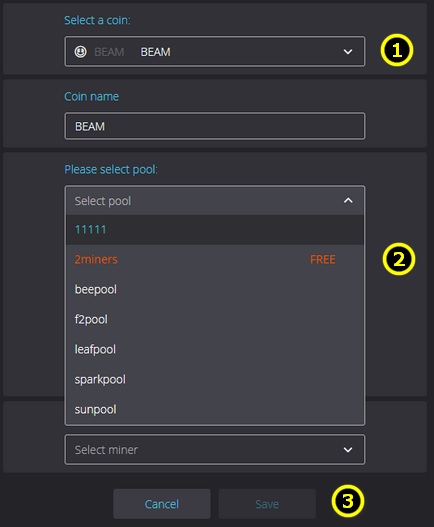 1. How to pay?
Go to Account section, enter the required amount of USD* and click on the [Pay] button. It will redirect you to coinpayments.net. Follow the instructions and you will receive an email from Coinpayments with a link to the payment.
*Please, pay attention to add transaction fee of your blockchain to the required amount when your pay in cryptocurrencies.
2. How can I reduce my payment commission?
Most cryptocurrency exchanges have large withdrawal fees and set a minimum withdrawal amount. Different cryptocurrencies has different transaction fees. Therefore, it is not very profitable to pay $5 from the exchange or BTC wallet. We advise you to convert your cryptocurrency and use coins with a low commission (LTC, ETC).
3. I have paid, but there is no money in the account. Where is my money?
The most common problem for users is commission coverage. It depends on your exchange or wallet. Make sure that you pay the amount indicated in the invoice plus your wallet or exchange commission.
Use link in email from Coinpayments to check status of your transaction. If you paid without commission, you can see something like this:
"Waiting for confirms... (97 / 100 received with 1 confirms)"
This means that 97 out of 100 coins were received for payment in Coinpayments. Now you need to decide what to do:
Pay the shortfall. You can pay to the same account by covering the missing amount (100-97).
Wait for refund. Money will be refunded when the payment is canceled, usually within 24 hours. You can simply create a new payment taking into account the commission.
4. I paid to Coinpayments more, is it possible to credit all the funds?
No. The amount exceeding the specified will be refunded within 24 hours. If it is not, you need to make a request to Coinpayments.
5. Are there other payment methods?
No. This is the only payment method at the moment.
6. How can I check the payment status?
Use this
form
to find out the payment status.
7. I have tried everything, but nothing worked. What can I do?
In the letter, specify:
Payment ID (C ...) received from Coinpayments earlier via email
Link to blockchain transaction or transaction number
Your RaveOS account name